ERP
etEngine-ERP is a Comprehensive Business Management Solution with domain specific design to streamline Production and other Business processes of companies that Manufacture complex & custom products. etEngine is enabled with Automation Tool to integrate live shop floor actives to reduce human intervention to get single data for Better Analysis. Enabled with Management Dashboard Reporting & Mobility for information on the fly.
Industry vertical solution
etEngine-ERP designed to meet domain specific requirement of Industries from medium-sized to medium large scale companies with Design-to-order, make-to-order, make-to-stock, assemble-to-order, or mixed-mode discrete manufacturing operations. Vertical Supported
Foundry & Casting Industries
Tooling Industries
Capital goods & Assembly Industries
Auto Ancillary Industries
Key Highlights
Industry specific made order Business Management Tool
Automation & integrating with external devices
Enabled with management dashboard
Powerful data access & report design
One point truth for data analysis
Easy deployment & maintenance
Scalable architecture
How we deliver
etEngine-ERP is enabled with domain specific work flow configuration
Business mapping documentation is standardized over a period of 10 years
Enabled with domain experts for faster & accurate AS-IS documentation
Template for data portability
Onsite & onsite support during go-live
etEngine-ERP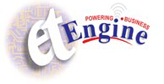 etEngine is available as "On Premise Solution" & "On Cloud" exclusive for manufacturing industries. GoLive in shortest time! More than 50+ Satisfied MNC/Listed Customers across India since 8+ years. ROI assured in minimum period of time. Take Right Decisions in Right Time!
Core Solutions for problems of manufacturing industry:
Material Requirement Planning, Scheduling, Subcontracting,
Consumption variance analysis
Constrain based planning based upon the machine &labour
Defect wise analysis-Heat/defect/product-Root cause analysis
Quality templates process wise-Raw material/WIP/FG
Activity based costing & variance tracking tool, ensure better profitability
Plant maintenance-Machine history/Effective plan utilization
Foundry specific solutions
Challenges faced by foundry industries is to meet on time customer delivery schedules, reduce quality cost (rejection), better & efficient energy utilization, inventory carry cost and labor utilization.
etEngine-Foundry ERP specifically designed & implemented in 50 major foundries across India, enabled with best practices of Foundry Industries to meet the above challenges.

Product costing
Tool to estimate the product cost for better quote with 99% accuracy
Tool to compare the actual cost of production to ensure profitability
Complete production planning solution to know
Capacity utilization & bottleneck analysis of Moulding, Melting & Core making
Raw material planning for better 'just in time inventory'
Scheduling of shop floor (modeling line) to meet customer deliveries
Complete foundry shop floor solution to know
Daily production log, line with planning
Rejection Analysis-Heat/ Product / Defect wise
Auto Ancillary specific features
Challenges faced by Auto Ancillary is to meet the customer fluctuating demand for various automobile models, ensuing timely procurement from vendors & flexibility in production etEngine specifically provides dynamic Material planning tool enables the flexibility in customer delivery schedule with automated material procurement schedule & monitoring of material delivery dates with automated email alert to the vendors. Online work center wise production log to trace the WIP
Flexible MRP tool to management customer delivery schedules and procurement
Work center load analysis for better Order scheduling
Quality control at work-order and pre-distribution levels
User-defined classifications of items ensures better inventory management
Reuse / salvage options help in reducing waste
Efficient tool management.
Shift-level MRP and re-ordering ensures optimum availability and utilization of materials
Improved vendor management
Engineering specific features
Engineering Industry: Challenges faced by Engineering Industries are tracking of the Orders as per the delivery schedules, Most of the time order completion cycle will be in 3 to 10 weeks cycle time. Challenge is to track material availability, ensuring Plant Utilization as per the incoming orders & ensuring on time deliveries from sub contractor.
etEngine- ERP specifically designed & implemented to meet the business requirement Engineering Industries. Work order based tracking of material reservation, purchase & issue.
Drill down Bill of Materials
Material Requirement Planning
Production Scheduling-Plant Capacity Utilization
Sales Forecasting
Inventory Reservation
Automated Supplier Delivery Schedules
Capacity Planning
Manpower Planning